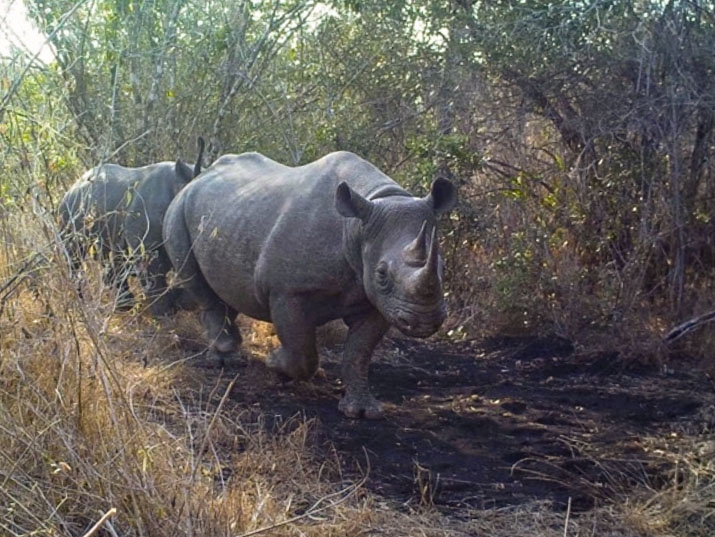 A small population of critically endangered Eastern Black rhinoceros live in Big Life's area of operation, nestled deeply in the Chyulu Hills. These 8 individuals are part of an elusive population once thought to be extinct, prior to their 're-discovery' in the '90s by community rangers who started noticing tracks. Since then, Big Life has worked tirelessly to protect this important population, one of the few remaining unmanaged, unfenced, and genetically independent rhino populations left in East Africa.
Despite their importance, these rhinos are threatened daily by poaching, human encroachment, and habitat loss. Tragically, between 2013 and 2015, 6 rhinos were lost to poachers. But since then, due to increased efforts by Big Life working in conjunction with the Kenya Wildlife Service, ZERO rhinos have been poached in the past 4+ years.
How do we do it?
51 rhino-dedicated Big Life rangers undertaking anti-poaching patrols, in coordination with Kenya Wildlife Service, looking for evidence of and preventing illegal human activity.
13 Big Life rangers dedicated to rhino monitoring, managing the 30+ remote camera traps deployed across the rhino territory, including monitoring camera positions, image capture, and data collection.
A community informer network provided incentives for information leading to the recovery of rhino horn, or the capture of poachers.
2 tracker dogs ready to respond for extended periods of time, and aerial surveillance using Big Life's SuperCub plane.
Our success protecting these 8 rhinos would not be possible without the support of our partners, including: the Kenya Wildlife Service, the US Fish and Wildlife Service, Chester Zoo, Save the Rhino International, the Association of Private Land Rhino Sanctuaries, and all of our supporters the world over. Today, and every day, thank you.