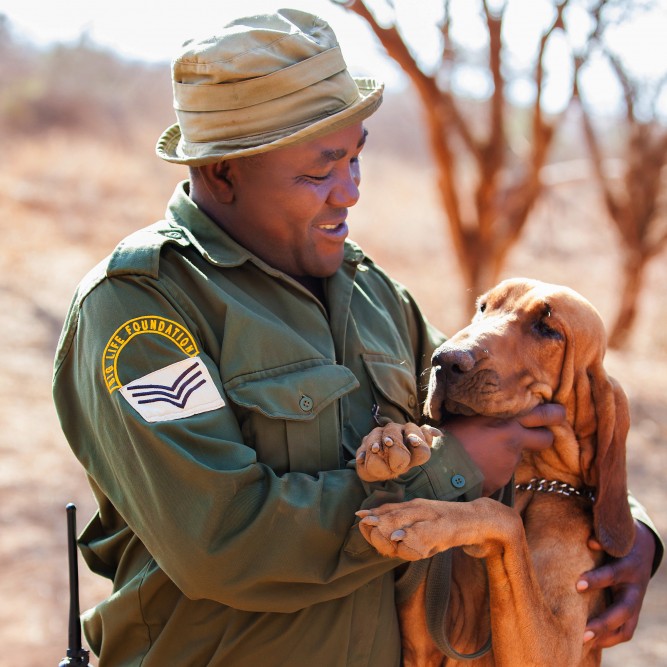 Big Life Foundation's community ranger, Sgt. Mutinda Ndivo, has been honored with a Disney Conservation Hero Award, one of only 18 award recipients in 2019 globally. The award recognizes local citizens for their commitment to save wildlife, protect habitats, and inspire their communities to take part in conservation efforts.
Mutinda is one of the most trustworthy and reliable rangers in Big Life's area of operation, 1.6 million acres of protected wilderness. The secret to his success? He was once a poacher himself. With limited career and educational opportunities, poaching was the only way Mutinda knew to support himself and his family. Big Life offered Mutinda a job as a ranger to redirect his skills and benefit both his community and wildlife. He rose quickly through the ranks and now works tirelessly as a Sergeant and leader of Big Life's tracker dog team. Mutinda's transformation from poacher to protector is truly amazing, and Big Life is proud of his leadership to protect wildlife and wild lands for the benefit of all.
Thank you to the Disney Conservation Fund for honoring Mutinda and building a global community inspired to work together to protect the magic of nature.  Since 1995, the Disney Conservation Fund has directed $86 million to support nonprofit organizations working with communities to save wildlife, inspire action and protect the planet, and has honored more than 180 Conservation Heroes for their extraordinary conservation efforts.
--
Mutinda and his fellow 300+ Big Life community rangers and field staff are only able to protect elephants and all wildlife across Greater Amboseli through the investment of Big Life's dedicated supporters worldwide. To join the fight and become a direct part of these lifesaving efforts, please consider making a monthly donation to join Big Life's Ranger Club, which provides reliable funding our rangers can count on.
Photo: Matilde Simas