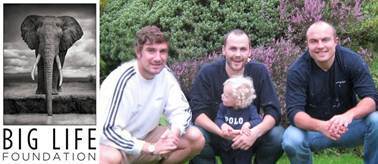 January 29 2012
Three Englishmen - Tim Golds, Jim Townshend and Tom Bailey - are planning to run Hadrian's Wall in icy Scotland in March to raise funds for Big Life Foundation. Their fundraising page is http://uk.virginmoneygiving.com/CaptureSafaris.
The ancient Roman wall is over 85 miles long and runs across the width of England, which they will be covering over 3 marathons in 3 days. The terrain is anything but flat, and Scottish weather in March is unpredictable to say the least.
Tim, whose safari company motto is "Shoot Photos NOT Animals", writes:
"When I was photographing in the Selous Game Reserve (Tanzania) a couple of years ago, I saw first-hand the real and current issue of poaching when I came across four freshly killed elephants in just a few days. Each one had been shot and its tusks cruelly cut out and then left for the predators. My fear of mass poaching being carried out was confirmed recently when a census showed that over 30,000 elephants had been poaching in the Selous and Mikumi National Park from 2008 to 2011, a horrifying 42% decrease in the population in just three years.
Big Life Foundation is an amazing project that is directly and actively fighting against poaching. Their initial large scale pilot project has shown incredible results and with further funding Big Life aims to replicate the projects to other national parks across Africa.
Whether you are interested in wildlife or conservation, we have a very real threat that in our lifetime we may lose Rhino's, Elephants and even Lions forever, unless we act now.
For more information, and to see where your money will be going please visit http://capturesafaris.com/Anti-Poaching.html."
Big Life thanks Tim, Jim and Tom for what they are doing, and wishes them the best of luck and stamina for their run for Big Life.